Ikos has a global scope with 25 offices in 13 different countries with innovative projects and centres of expertise of international standing. IKOS anticipates expansion into California and South America following the opening of new offices in Dusseldorf, Zurich and Stockholm in 2019 and 2020. In 2021 IKOS acquired Aegis, an English consultancy firm based in Derby, London and Madrid.
Image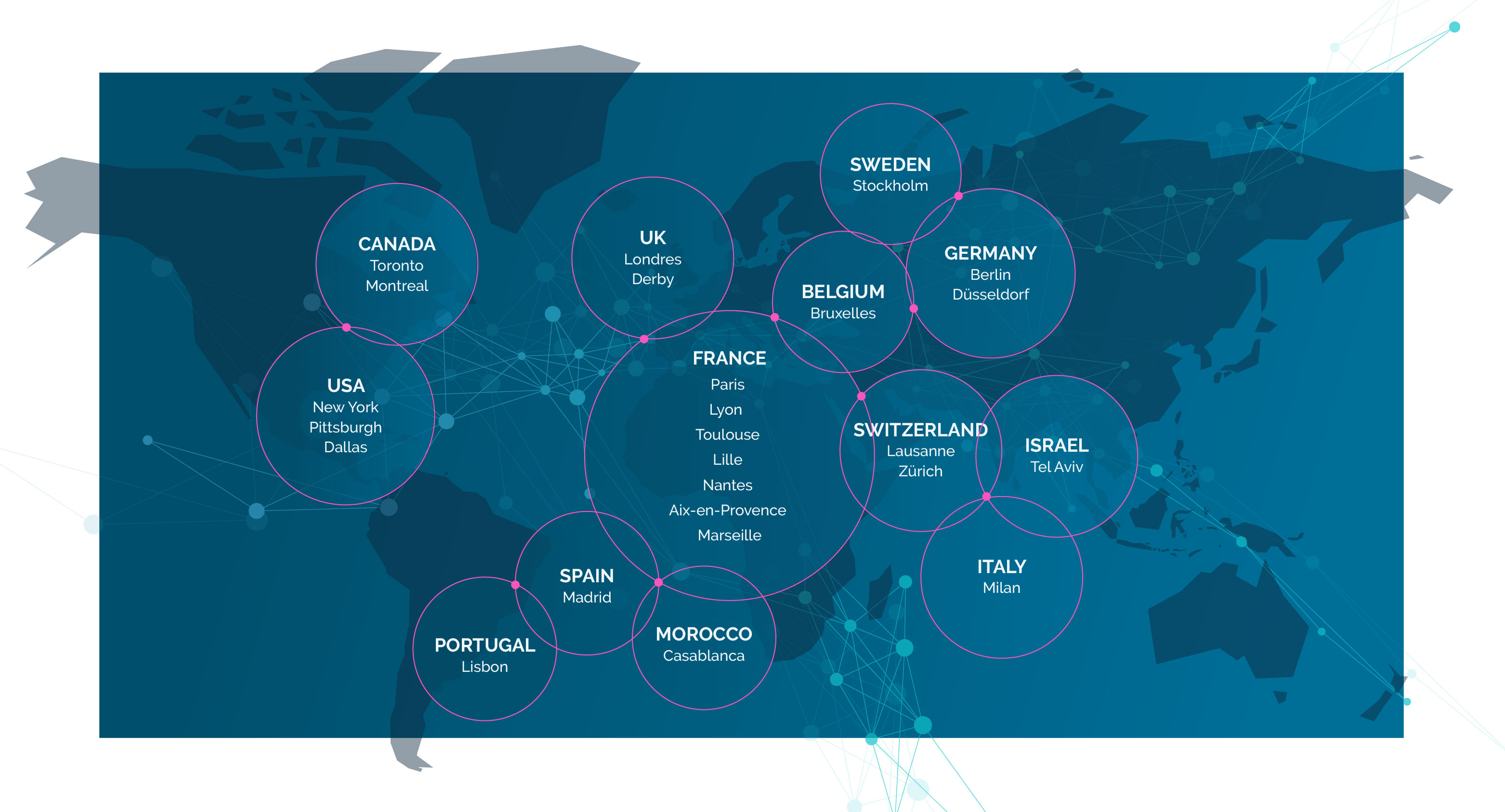 France: Paris, Lyons, Lille, Nantes, Toulouse, Aix-en-Provence, Marseilles 
Spain: Madrid
Belgium: Brussels
Germany: Berlin, Düsseldorf
Switzerland: Lausanne, Zurich
United Kingdom: London, Derby
USA: New York, Pittsburgh, Dallas
Italy: Milan
Canada: Montreal, Toronto
Sweden: Stockholm
Morocco : Casablanca
Portugal : Lisbon
Some of our international projects
Jerusalem tramway project
In collaboration with our client, we are responsible for the supervision of specialist trials for the guarantee of the Jerusalem tramway. 
Dubai Metro Project
We are responsible for various safety reports and for updating the risk register on the Dubai metro.
HSL Morocco
Our engineers in Spain are working on the High-speed Line Project in Morocco and managing a team of 20 in ERTMS L1 Test & Commissioning on the Tanger-Casablanca and Triángulo Kenitra-Rabat-Casablanca line. 
Therma Visayas Project
IKOS has undertaken the mechanical studies necessary for the certification of monitoring and control cabinets for the turbo-alternator unit of this thermal power station in the Philippines. These studies are particularly conducted on earthquakes.
Projet People Mover Los Angeles
Pour le compte de notre client, nous intervenons sur de l'intégration système en CBTC pour le développement de l'Airport People Mover de l'aéroport de Los Angeles. 
Crossrail UK
IKOS travaille sur Crossrail, plus grand projet d'infrastructure d'Europe ayant pour objectif d'améliorer les temps de trajet dans Londres, diminuant l'afflux de passagers et offrant de meilleures connexions. Nous sommes impliqués dans l'intégration de systèmes de signalisation ERTMS. 
Projet ETCS Stockholm
L'équipe IKOS travaille sur les tests software des systèmes ETCS L2 bord et procède à la modification des produits génériques dans le respect des normes TSI. Par ailleurs, nous mettons également à jour la documentation technique des appels d'offres relatifs aux ETCS.
Projet Déploiement PTC New Jersey
Depuis quelques années, nous participons au déploiement du projet PTC (positive train control) sur le New Jersey Transit : documents V&V, revues de logiciels, analyse de risques et rapports de sécurité.
Projet interconnexion France-Italie
IKOS a réalisé la supervision de montage et installation du système de détection incendie des locaux techniques du poste de conversion d'énergie FIL : le poste d'interconnexion électrique selon la technologie HVDC entre la France et l'Italie.